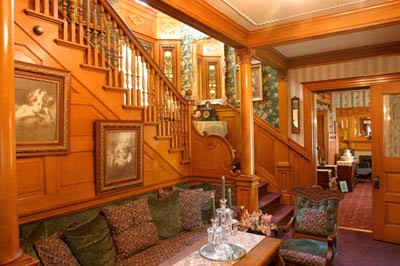 Nestled within Oakenwald Terrace's 10,000 square feet, you will find six lovely guest bedrooms, each with it's own private bath and spacious sitting area. The rooms are all lavishly appointed with antique furniture and collectables.
– More room details and pricing.

The common areas include a parlor donning a fireplace and square grand piano, a library originally used as a receiving parlor for guests, an extravagant dining area shining with silver, two alluring decks for relaxing during temperate weather, an extensive screened in porch housing several tables and other patio furniture, a front veranda with the traditional porch swing, and a large patio area bedecked with multiple fountains and of course beautiful flowers.
– More info on the common areas.

You'll love our food!
– Meal Accommodations